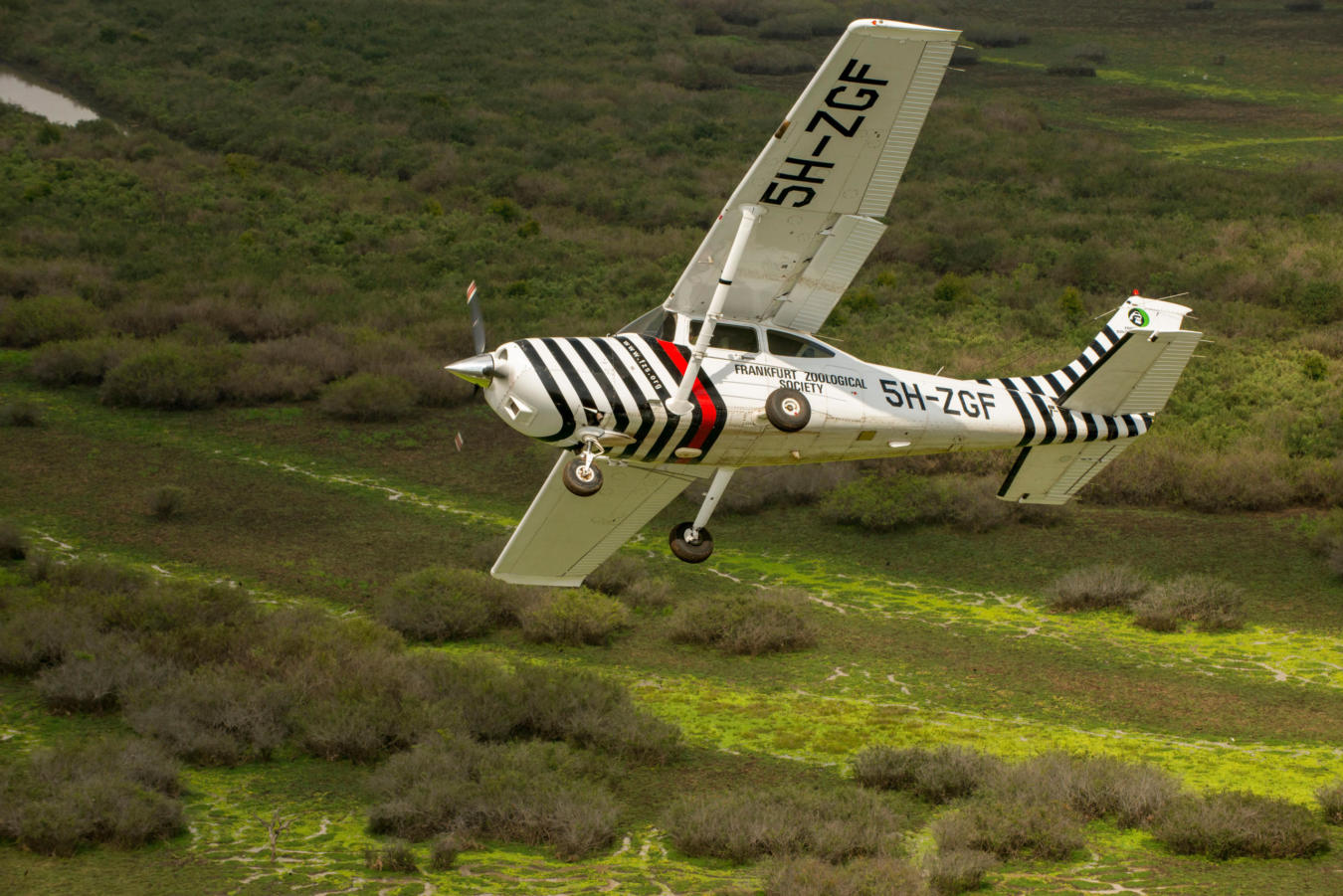 Results of the Selous – Mikumi Ecosystem Aerial Wildlife Census Announced
Joint press release by the Tanzania Ministry of Natural Resources and Tourism and Frankfurt Zoological Society.
Dar es Salaam, Tanzania, 11th January 2020 – Today, Dr. Hamisi Kigwangalla (MP), the Minister of Natural Resources and Tourism, announced the results of the Selous – Mikumi Ecosystem Aerial Wildlife Census. The aerial wildlife census was led by Tanzania Wildlife Research Institute (TAWIRI) in collaboration with Tanzania Wildlife Management Authority (TAWA) and Tanzania National Parks (TANAPA) in October/November 2018. The census team deployed 3 light aircraft flown by experienced pilots at an average height of only 106 m above ground level. Trained observers recorded all animal observations whilst the front seat observer assisted navigation and data recording. The census surveyed a total of 104,143 square kilometers and flew a total distance of 18,698 km, equivalent to flying Dodoma to Berlin almost 3 times. The survey results estimate the 2018 Selous – Mikumi Ecosystem elephant population to be 15,501 (± 1,819 S.E.).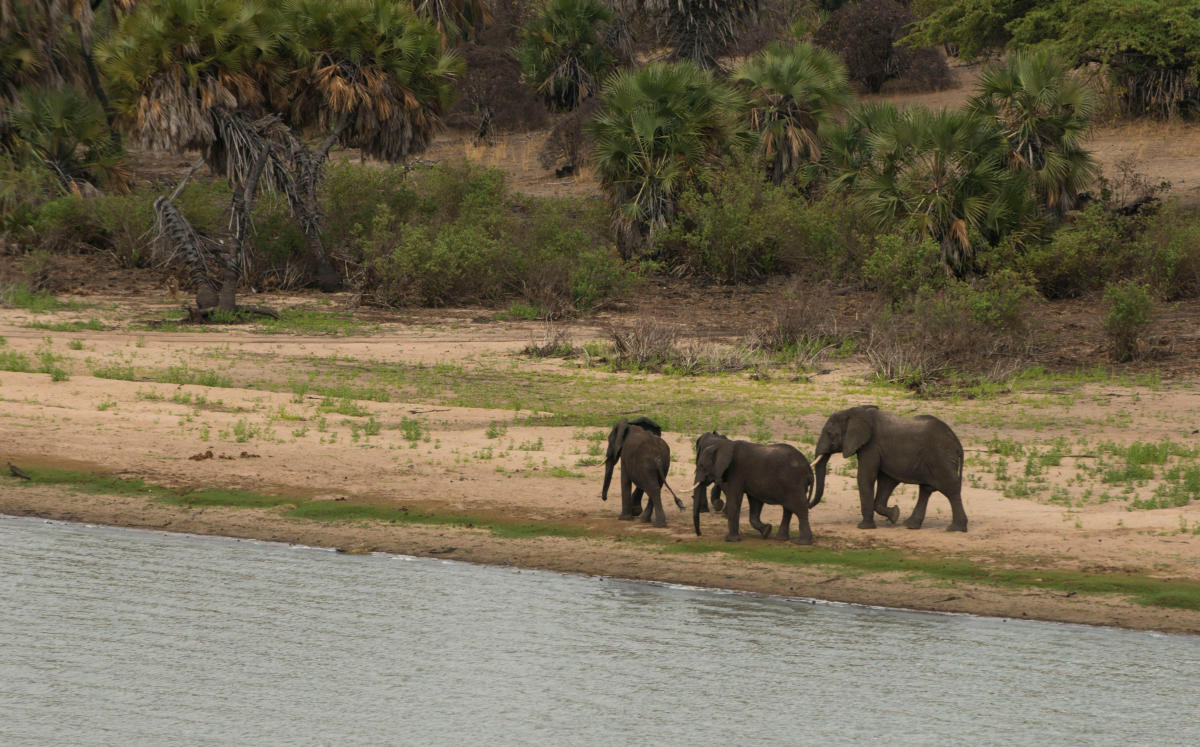 "From the census results that we have released today, it is evident that the Government efforts to curb poaching are working, now we must remain vigilant and consolidate these efforts so that the elephant population can recover." said Honourable Minister Dr. Kigwangalla (MP).
"The census is an outcome of the good cooperation between Tanzania and Germany, who have jointly made it possible to carry out this important work. Having good data is a crucial basis for decision making ", said Regine Hess, Ambassador of the Federal Republic of Germany in Tanzania, and added: "I would like to acknowledge the commitment of the Tanzanian Government to strengthen environmental protection countrywide – among others by upgrading the protection status of a large part of the Selous to the Nyerere National Park."
"We are pleased to report that there have been no further decline in the elephant population of Selous – Mikumi ecosystem since the 2014 census. The stabilizing of the elephant population numbers combined with very few incidences of fresh elephant carcasses indicate that poaching has been brought under control" said the Director General of TAWIRI, Dr. Simon Mduma.
"Since its establishment in 2016, TAWA has dedicated its efforts in Selous Game Reserve to reduce poaching and address the challenges related to resource management and the reserve's sheer size." said Dr. James Wakibara, Conservation Commissioner of TAWA."These results will support TANAPA's efforts as they move forward with taking a greater role in protection of the ecosystem" said Dr. Allan Kijazi, Conservation Commission for Tanzania National Parks.
Anika Calov, the Country Director for KfW added "We thank all the collaborating parties for this joint approach to the Selous-Mikumi 2018 Wildlife Census. We are convinced that a solid data base has been created that contributes significantly to the future management of this unique ecosystem."
"Frankfurt Zoological Society is proud to have supported the Selous – Mikumi 2018 wildlife census with financial support through the Selous Ecosystem Conservation Development Program (SECAD). The SECAD program is funded through KfW on behalf of the German Government and is implemented by the Ministry of Natural Resources and Tourism (MNRT) through the Tanzania Wildlife Management Authority (TAWA) in cooperation with Frankfurt Zoological Society (FZS), World Wide Fund for Nature (WWF) and GOPA-INFRA" said FZS Country Director, Dr. Ezekiel Dembe.
Ministry of Natural Resources and Tourism Tanzania
Communications
Doreen Makaya
dorymakaya@maliasili.go.tz
Tanzania Wildlife Research Authority
Director General
Dr. Simon Mduma
simon.mduma@tawiri.or.tz
KFW
Country Director
Rufiji Street Plot 1668
House No. 20
Masaki
Dar es Salaam
Embassy of the Federal Republic of Germany in Tanzania
Press Officer: Emmanuel Mtingwa
Email : Pr-100@dare.diplo.de
Tanzania
TAWA
Communication Officer
Twaibu Musoke
Twaibu.musoke@tawa.go.tz
Tanzania National Parks
Pascal Shelutete
Public Relations Officer
pascal.shelutete@tanzaniaparks.go.tz
Frankfurt Zoological Society
Tanzania Country Director
Dr. Ezekiel Dembe
ezekiel.dembe@fzs.org