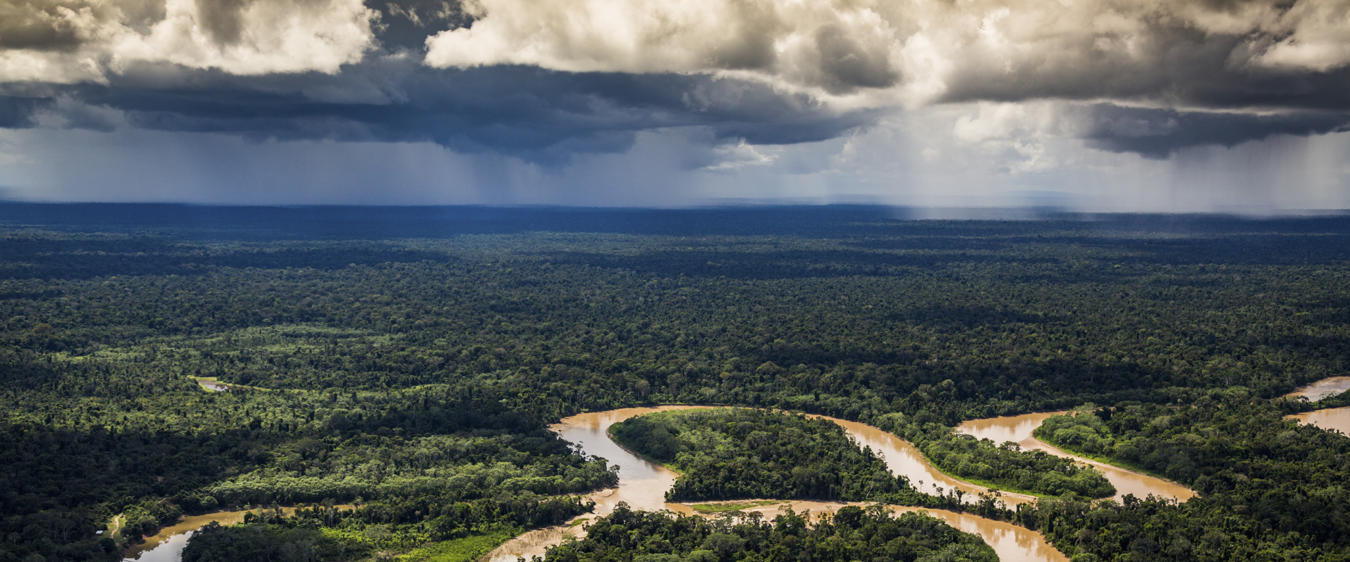 Purús Landscape
Protecting Peru's largest national park
The vast, and at the same time, remote Purús landscape is famous for being one of the most untouched and species-rich areas of the Amazon basin. It includes Alto Purús, Peru's largest national park, as well as a communal reserve and three indigenous territories.
Due to its direct neighbor, the Manu landscape, there is a gigantic contiguous rainforest area that represents an important biological corridor and provides an additional protective shield for natural habitats and umbrella species as well as ecosystem services. Purús is also one of the last areas on earth where indigenous peoples live in isolation and without visible interference with their natural environment.
Together with the local communities and authorities, conservation activities in the protected areas and for the indigenous territories of the Purús landscape are being brought together and strengthened.
Quick Facts
Project name:

Support of Purús Landscape

Alto Purús National Park:

25,107 km²

Reserva Comunal Purús:

2,020 km²

Mashco Piro Indigenous Reserve:

8,161 km²

Murunahua Indigenous Reserve :

4,703 km²

Madre de Dios Territorial Reserve :

8,299 km²

Project leader:

Danilo Jordan

Project start:

2007
Remote surveillance through high-resolution satellite data, overflights, and the use of drones to detect illegal activities
Support for protected area management in undertaking patrols in remote areas and capacity building of park guards
Support the implementation of participatory community monitoring and surveillance along the rivers in the Purús landscape
Annual monitoring of key aquatic species, the giant otter and the Yellow-spotted River turtles
Support for the river turtle protection plan at a regional level
Strengthen the participatory management committees and indigenous federations within the Purús landscape
Co-manage the use of non-timber resources such as Copaiba oil and Huasaí palm fruits as well as aquatic resources, such as river turtles and catfish, based on conservation agreements with indigenous community associations
Offering training to indigenous women's associations in business management and marketing
Increasing local knowledge about the benefits of protected areas in the Purús landscape
Incorporate environmental education activities and materials about the Purús landscape within the Ministry of Education official documents at local and regional levels
Support primary education institutions to develop practices with an environmental approach within the national curriculum
Support necessary actions to change the categorization of Madre de Dios Territorial Reserve into an Indigenous Reserve to enable greater legal protection
Successful conservation is always the result of great teamwork. We collaborate with local communities, national authorities, and conservation organizations. Our partners make our conservation work possible.
Peruvian authority of natural protected areas (SERNANP)

Ministerio de Cultura Peru (MINCUL)

Gordon and Betty Moore Foundation

EcoPurús

Federación Nativa del Río Madre de Dios y Afluentes (FENAMAD)

Sociedad Peruana de Derecho Ambiental (SPDA)

Unidad de Gestion Educativa Local de Tahuamanu (UGEL Tahuamanu)