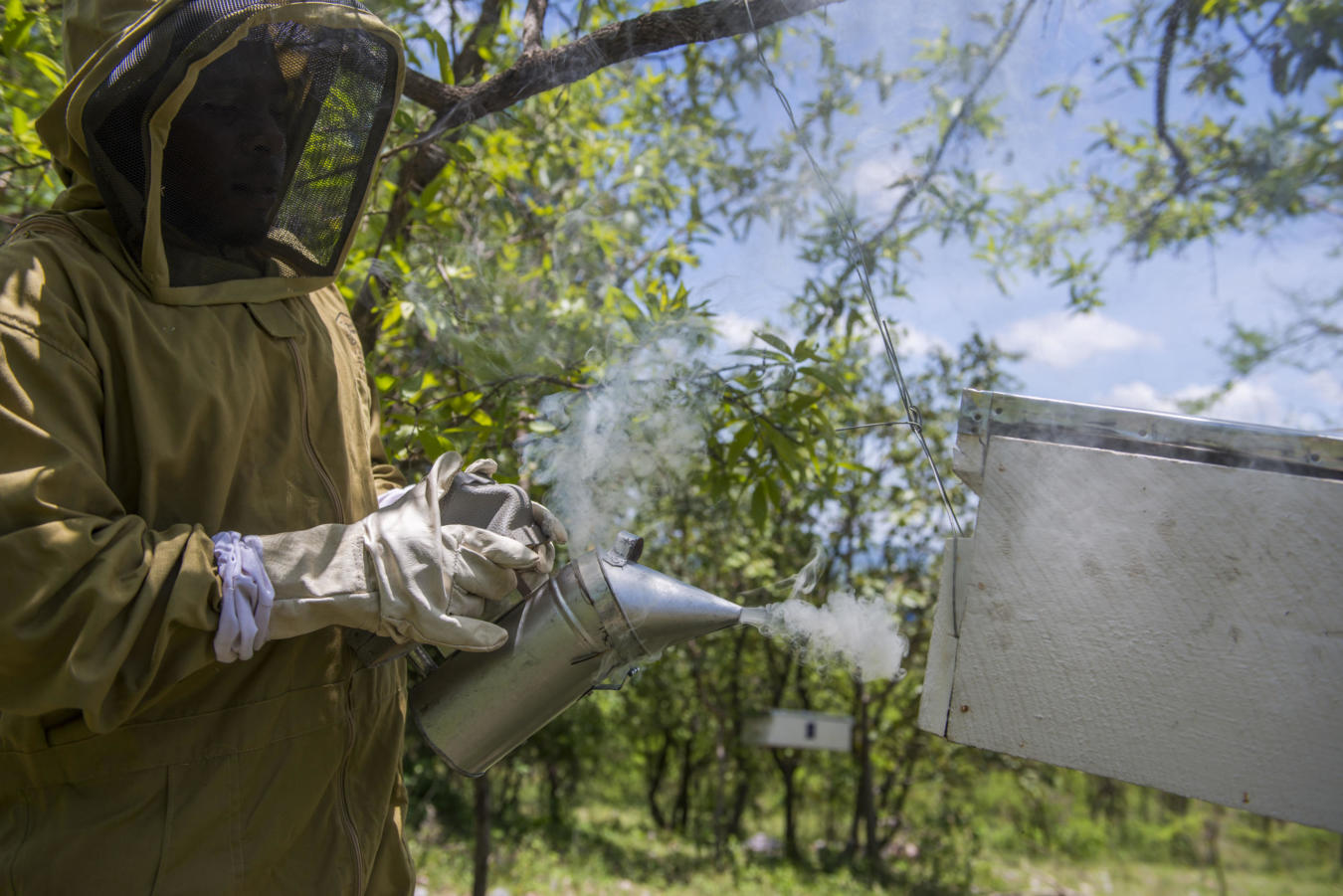 Serengeti Ecosystem
Community Conservation Work in the Serengeti Ecosystem
The Serengeti ecosystem is a mosaic of protected areas and community land. Wildlife traverses each of these areas throughout the year. Protecting wilderness and promoting sustainable development of the local communities go hand in hand.
The Frankfurt Zoological Society works with the people living in the ecosystem to become actively engaged in conservation and find sustainable livelihood opportunities.
Local people often rely on natural resources and ecosystem services, but unsustainable resource use is contributing to the loss of biodiversity and wildlife habitat.
The Serengeti Ecosystem Management project works to promote alternative ways for communities to earn an income and benefit from the area's protection by creating incentives to conserve the Serengeti ecosystem.
Quick Facts
Project name:

Serengeti Ecosystem Management Project

Program Manager:

Masegeri Rurai
The Frankfurt Zoological Society works closely with local partners to ensure that conservation efforts extend beyond the National Park. Our partners include Serengeti National Park (SENAPA), Tanzania National Parks (TANAPA), Ngorongoro Conservation Area Authority, Tanzania Wildlife Authority (TAWA), Ministry of Natural Resources and Tourism, and the Tanzania Wildlife Research Institute (TAWIRI). We also work with local government authorities in Serengeti district, Ngorongoro district, Tarime district, Bunda district, Bariadi district and Meatu district.
At the ecosystem level, we are implementing diverse strategies aiming to achieve positive conservation impacts while improving livelihoods from household to village levels.
FZS is also facilitating community-managed forest areas in the Loliondo highlands. These forests are an important water catchment area and the source of the Grumeti River, a year-round source of water for wildlife in the Serengeti. Through participatory forest management, FZS works closely with the communities to recruit and facilitate the training of Village Forest Guards who act as the guardians of the forests that are a crucial part of the Serengeti ecosystem.
FZS provides technical assistance to engage local communities in ecosystem conservation and management. Wildlife Management Areas (WMAs) are protected areas established by communities on village lands. Communities are able to generate revenues through wildlife tourism. FZS assisted in establishing two WMAs in the Serengeti ecosystem (Makao and Ikona) and is now working to ensure good governance and protection of these areas.
In recent years, the rangelands of northern Tanzania have become rapidly fragmented and degraded as stock levels have increased, cultivation and settlements have expanded, and as a result of more frequent and severe droughts. This has meant many of the inherent natural resource values of these rangeland systems, including those for wildlife, are being lost.
Since 2020 FZS has been working with the Ngorongoro District Council to introduce a sustainable rangeland management approach in the Loliondo division of Ngorongoro District through its Serengeti Ecosystem Conservation Project.
One of the main objectives of this project is to have measures for strengthening sustainable ecosystem management and a mechanism for sharing benefits with the local communities by empowering them to use their own resources in a sustainable manner.
The program is designed to address unsustainable resource use, livestock losses, and rangeland degradation and will marry traditional practices and modern techniques of rangeland management to re-establish healthy rangeland management conditions. The ultimate goal is to restore degraded landscapes and improve natural resource management in the area.
FZS is working with the Serengeti National Park and District Councils to develop mechanisms for improving benefit-sharing. The "Serengeti Conservation for Development Challenge" is a way to improve equitability and transparency for the allocation of benefits to communities. It is a competitive program to reward villages that are demonstrating their commitment to conservation. Since 2020, a total of 61 development projects (health and education) have been awarded to communities based on positive conservation outcomes.
FZS works closely with villages and District Councils adjacent to protected areas to develop scientifically informed land-use plans. Participatory land-use planning can address multiple socio-economic and conservation objectives by strengthening the community's property rights and increasing benefits from natural resources, as well as reducing human-wildlife conflict.
FZS, TANAPA and the local governments jointly started the initiative of village land-use planning in the year 2016 through funding from the KFW Development Bank Germany. These stakeholders and partners continue to work closely together in efforts to support village land use planning in the Serengeti district following systematic procedures put in place, including participatory land use planning, that allows primary stakeholders like village leaders to collaborate with these partners in preparations and approval of the plans.
All these partners work together to prepare proper plans of land allocation, especially lands for settlement, grazing, agriculture, rangelands, and corridors for wildlife. Moreover, an important aspect of land use planning is that it gives an opportunity for land tenure security through the provision of Certificates of Customary Rights of Occupancy (CCRO). Customary Rights of Occupancy is the right to own land under customary law, where the land can be acquired through inheritance, clearing of virgin land, or purchasing it.
In the year 2022, more than 6,000 CCROs were issued to community members for the ownership of land in the Serengeti villages. Furthermore, land use planning provides local governments with directives in developing programs and strategies to support these plans further from the community level to the Ministerial level for further development plans.
Successful conservation is always the result of great teamwork. We collaborate with local communities, national authorities, and conservation organizations. Our partners make our conservation work possible.
Serengeti District council

KfW

Government of Tanzania

Meatu District Council

European Union

Tanzania National Parks (TANAPA)

Ngorongoro District Council

National Geographic

Tanzania Wildlife Research Institute (TAWIRI)

Community Wildlife Conservation – Makao Wildlife Management Area (WMA)

Elephant Crisis Fund

National Land Use Planning Commision

Community Wildlife Conservation – Ikona Wildlife Management Area (WMA)

Grumeti Fund

Ngorongoro Conservation Area Authority (NCAA)

Tanzania Wildlife Authority (TAWA)