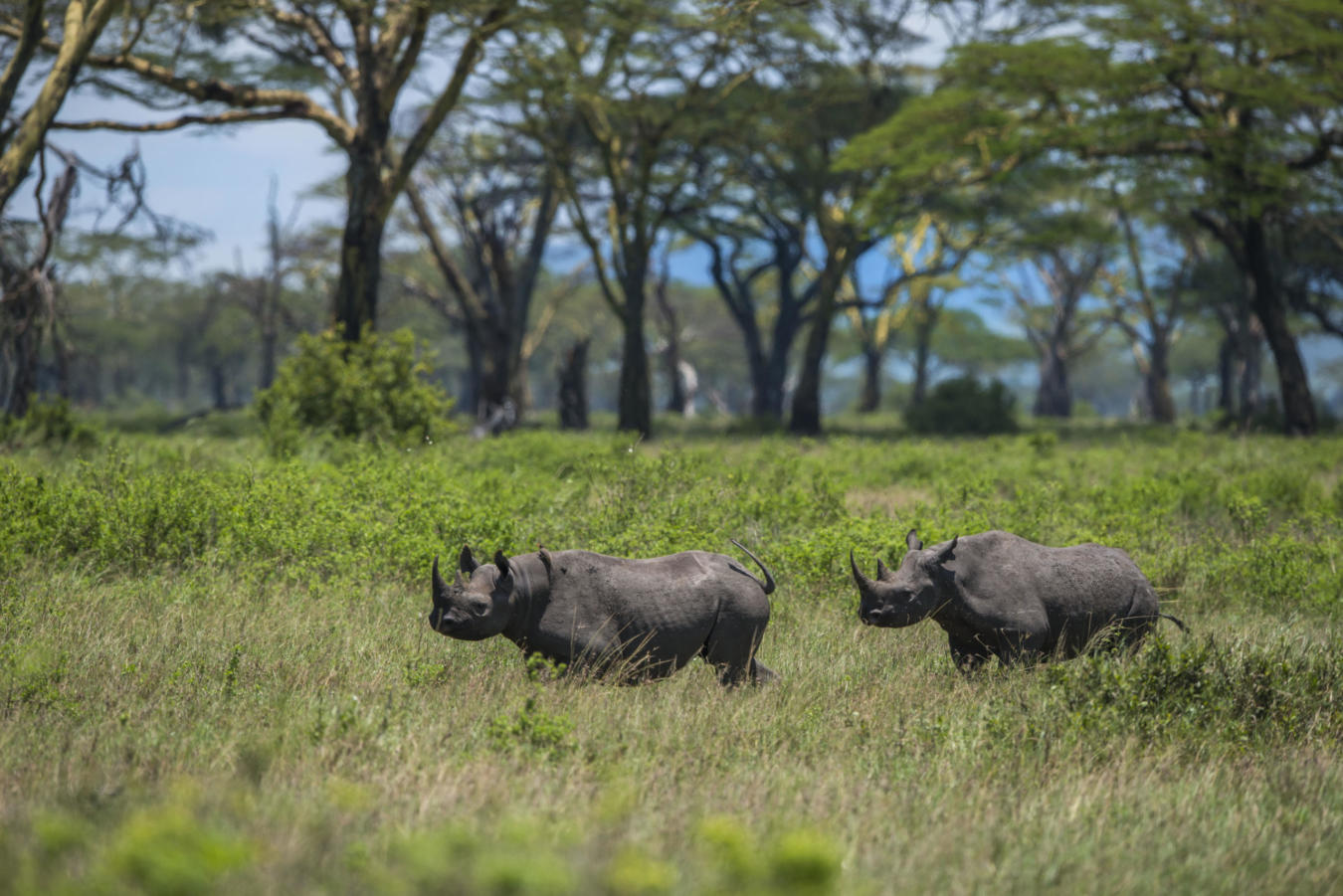 Rhino Conservation in the Serengeti
In the mid-1970s, the Serengeti National Park had a black rhino population of about 700 animals. However, rampant poaching starting in the late 1970s led to the near extermination of the species, leaving just a handful left in the Serengeti by the start of the '80s. The species was nearly completely eradicated in Tanzania by the 1990s.
The Tanzanian government responded to the slaughter with a call for a countrywide survey to gather baseline data on rhinos. This 1993 survey, funded by the Frankfurt Zoological Society (FZS), found evidence of only three black rhinos in the central Serengeti Moru Kopjes area.
With the situation confirmed as dire, FZS commenced discussions with Tanzania National Parks Authority (TANAPA) to establish a rhino conservation project at Moru Kopjes. In 1996 work began on improved monitoring and anti-poaching efforts. The Michael Grzimek Memorial Rhino Post was designed and built for the rhino monitoring unit. The post is located on one of the rocky hills that are characteristic of Moru Kopjes.
The Rhino Post included an information room where visitors could be educated about the plight of black rhinos. A radio system was installed for communication, and anti-poaching patrol methods were completely altered, with ranger teams based full-time in the field, working in rotation.
Watch the team place transmitters on Serengeti Rhinos – a joint project between the Tanzanian authorities, FZS, and the Friedkin Conservation Fund
Film produced by Pursuit Aviation
The Serengeti Rhino Repatriation Project (SRRP) aimed at boosting the small Serengeti rhino population with additional rhinos. Today, FZS continues to support TANAPA's rhino conservation efforts in the Serengeti through the provision of food rations to the rhino protection teams, aerial surveillance flights for monitoring and anti-poaching, the purchase and maintenance of a digital radio network, logistical and financial support for rhino monitoring, as well as the repair and maintenance of all of the rhino team's vehicles.
FZS regularly assists the park with rhino tagging operations, when rhinos are captured and fitted with radio transmitter horn implants to assist with monitoring the animal. FZS also provides assistance with the procurement of telemetry equipment (transmitters, receivers, antennas), radio-tracking flights, and general technical assistance.
This project has continued to support rhino protection activities in Ngorongoro Crater and the huge efforts of the protection authorities, with the financial and technical support of FZS, has resulted in the Ngorongoro-Serengeti black rhino population now being one of the largest free-ranging black rhino populations in Africa.